Samuel, at the Paralympics in Rio de Janeiro five years ago you won a gold medal for Slovakia in pairs and a silver medal in the individual BC4 category. This year in Tokyo you won gold in both categories. Share with us your feelings about this phenomenal success..
The feelings are really wonderful, of course. I am happy that our 5-year hard work came to fruition, and we won two Paralympic gold medals in Tokyo in the individual BC4 and pairs BC4 categories.
As it is usual at the Paralympics, the athletes do not have time to celebrate or enjoy their success. The same was the case now after my triumph in the individual category. Immediately after the match I attended the medal ceremony, the doping control, interviews for our and foreign media and then spent about 2 hours in the relaxation room designed for athletes. There we could relax after the matches. Later in the evening we had a common training of pairs and the next morning the first matches in the pairs categories were waiting for us. I can enjoy this achievement all the more now when I am at home and in a quieter environment.
You come from Snina, a small town in Eastern Slovakia. How did your journey from there up to the position of the best boccia player on the planet look like?
I don't think I'm the best boccia player on the planet. There are few athletes who are more decorated than me and there are certainly some more skilled ones.
My first contact with boccia was at a summer camp for handicapped youth in Remata near Handlová. It was a camp called "Looking for Talents", which is organized by the Slovak Paralympic Committee and presents all Paralympic sports to young sports hopefuls. There I met boccia and my sporting journey began.
The first years were entirely in the direction of my parents, who did all the training preparation with me - they coached me for national tournaments and accompanied me to them. Later on, thanks to my success at the national level, I got to international tournaments - I was included in the national team of Slovakia and national team trainings were added to our trainings, already under the guidance of Martin Gabek, the national coach.
As time went by, other fitness coaches - Matúš Brezovský, Adam Kavka, Stanislav Stebila and nutritionist, Peter Palenčár - joined my training process. I cooperate with the last two of them at the present time as well.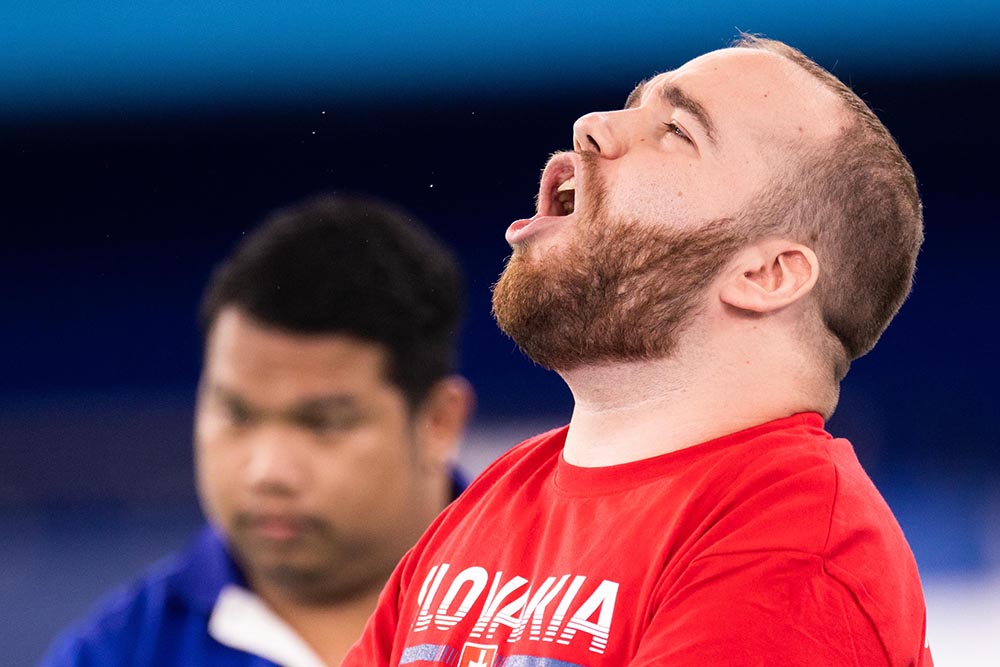 Which people helped and supported your talent the most in your sporting career? How did they enrich you?
Certainly, it was my parents in my early days who devoted a huge amount of time and money to my preparation. They supported me every step of the way. I can definitely say that without their help I would not be a four-time Paralympic medallist today.
Of course, the national coach, with whom we did everything we agreed on to the letter, also played a significant role in these results. We are glad that the effort and sacrifice has borne the desired fruit. Of course, later on, as the coaches got involved, everyone brought something new and enriched and pushed me in some way.
How do you perceive the level of boccia in Slovakia? The organization of tournaments, the league, the competitiveness, and cohesion of the players... How do you perceive the impact of BASHTO SPORTS on the level of boccia at home and abroad?
It is the evenness of the matches at the national level that motivates me to work more and more on myself. It is not at all obvious to win a national race. Although someone would say that after winning gold medals at the Paralympics, it couldn't be any other way. However, the opposite is true...
We have many skilled players in Slovakia, and I can't rest on my laurels either. I can say that they are a mirror of my preparation, and I can evaluate my current sporting form in such matches. However, I am very happy that despite their drives and competitiveness, I can call many of them close friends and out of the court we are always happy to talk and tell each other how we are doing in our personal lives or what news we have.
I see BASHTO SPORTS in a very good light, as evidenced by the fact that it is expanding globally. I am always pleased when I see our domestic brand at an international tournament. I think that today it has a very well covered network of athletes and a wide portfolio of balls or other sports equipment, which is necessary for an athlete to be able to fight for top places in tournaments.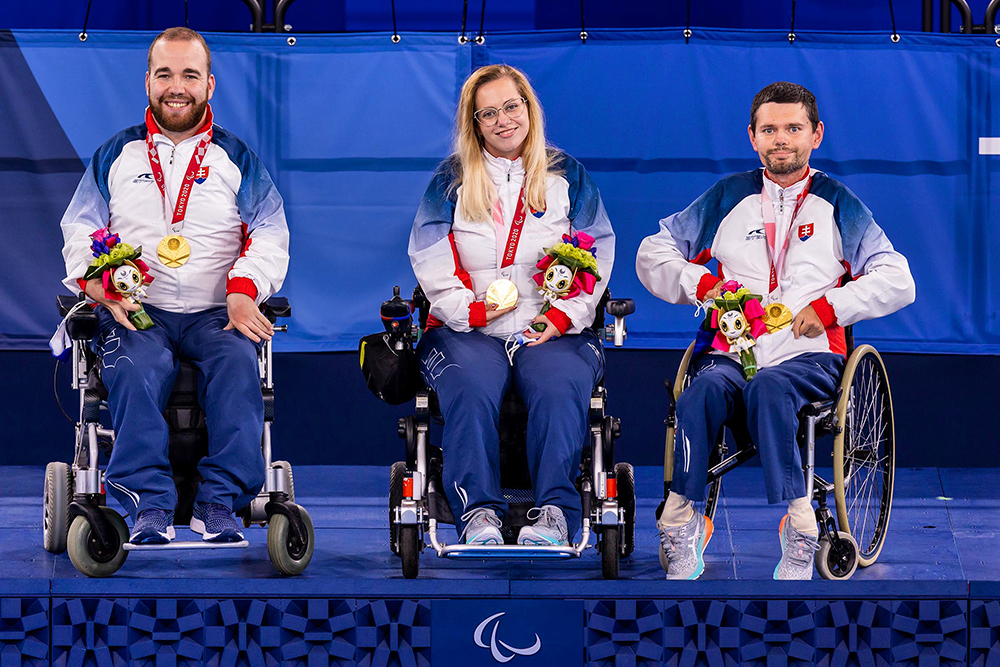 How does your sports equipment help you in your victories?
I choose my sports equipment carefully and take care of it. I have nothing but praise for it.
Currently my sports set consists of several sets of balls, but in most cases it is 4 balls of Boccas brand (Brazil supersoft model) and 2 balls of Tutti per Tutti brand (Elite medium-hard model). As a jack I use Korean Victory brand balls (soft faux leather). However, I also have Victory brand balls that I combine with Tutti per Tutti.
Before each event, I decide which set to use, based on the surface it will be played on. I have played with these brands for the vast majority of my sporting career.
Do you have any pearls, curiosities, or funny experiences related to boccia?
One of the highlights was definitely the moment at the 2019 Zagreb tournament when I started the match without Jack. I inadvertently sent it with the second colour balls away from the call room. I froze for a few seconds too, but of course I smiled about it later. I got the official ball and luckily won the match anyway.
However, this happens often to all players. I know about 2 or 3 other similar cases in our team alone.
What activities and hobbies do you have besides boccia? What do you do and how do you spend your free time?
Before the Paralympics I devoted all my free time to the preparation and training. Now, when there is more free time, I can also think about some shorter trips, which will fit in between my study and work obligations.
Samuel, you're only 25 years old and you're already the best boccia player on the Earth. Do you still have any ambitions? Sporting goals and life dreams? In and out of boccia? On the Earth and beyond it?
After the Paralympics I started my PhD studies at the Technical University in Košice. So now my attention is focused on studying issues related to my work. However, soon we will start our preparation for the upcoming European Championships in Seville, Spain, where I would like to defend the 2 titles I won at the last European Championships 2019.
Finally, you can say something to our readers, who are boccia players and fans from 35 countries around the world on 5 continents.
My message to readers? Absolutely never give up. Always fight for your dreams, no matter how unattainable and distant they may seem. Believe it or not, if someone had told me 10 years ago that I would have 4 Paralympic medals, I would have told him/her he/she was crazy. But nothing is impossible. My fingers are crossed for all of you on the road to your dreams.
Finally, we would like to inform you that in the time between this interview and its publication, Samuel Andrejčík became the Slovak Boccia Champion in the individual category BC4. Congratulations...
Photogallery